Sound, Completed by Audio Masters
By combining Samsung's innovative mastery in home entertainment solutions with 65 years of Harmon Kardon's audio technical expertise, the two brands continue to push boundaries to bring state-of-the-art sound to the home entertainment experience.
Experience immersive surround sound
The Soundbar delivers true cinematic surround sound in your living room. Sound moves around you thanks to up-firing and side-firing speakers that provide a full 5.1.2ch atmospheric audio experience. Can you feel it? Let the sound take you there.
True 5.1.2ch sound
Be surrounded by a complete audio environment with the 5.1.2ch Soundbar, powered by up-firing and side-firing speakers. With object-based sound playbacks like Dolby Atmos, DTS: X and you can experience captivating entertainment.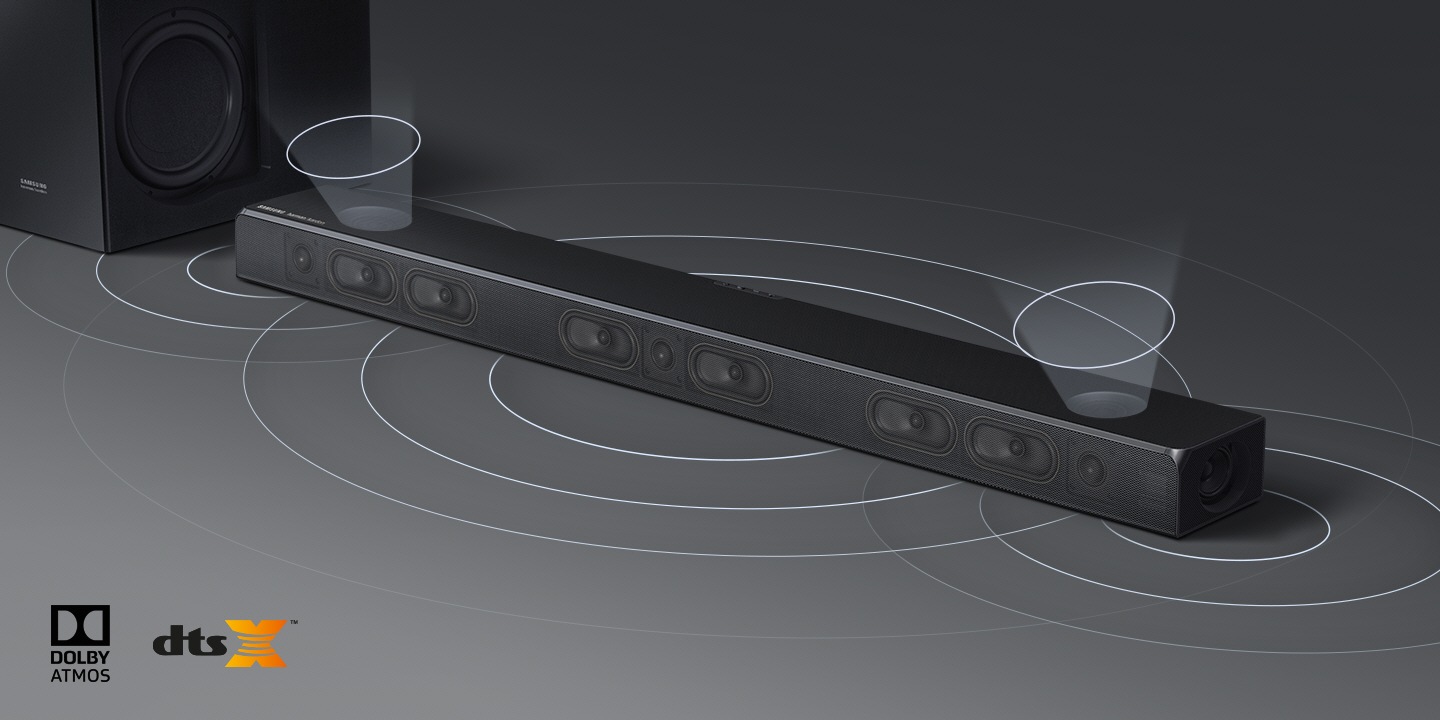 Up-firing speakers
Powerful sound waves shot to the ceiling make your audio seem like it's dropping in from above. Amazing overhead sound for a deep cinematic experience in the heart of your space.
Side-firing speakers
With side-firing speakers on each end of the Soundbar, you'll be totally immersed in surround sound. Side to side, front to rear, from all angles.
Sweet spot anywhere you sit
Every spot is the sweet spot. Get consistently amazing sound everywhere in the room with the Soundbar's state-of-the-art wide-range tweeter.
Let the original sound come alive
Transform your music to a more detailed and dynamic sound. Upscale any of your music files up to 32bit for richer sound.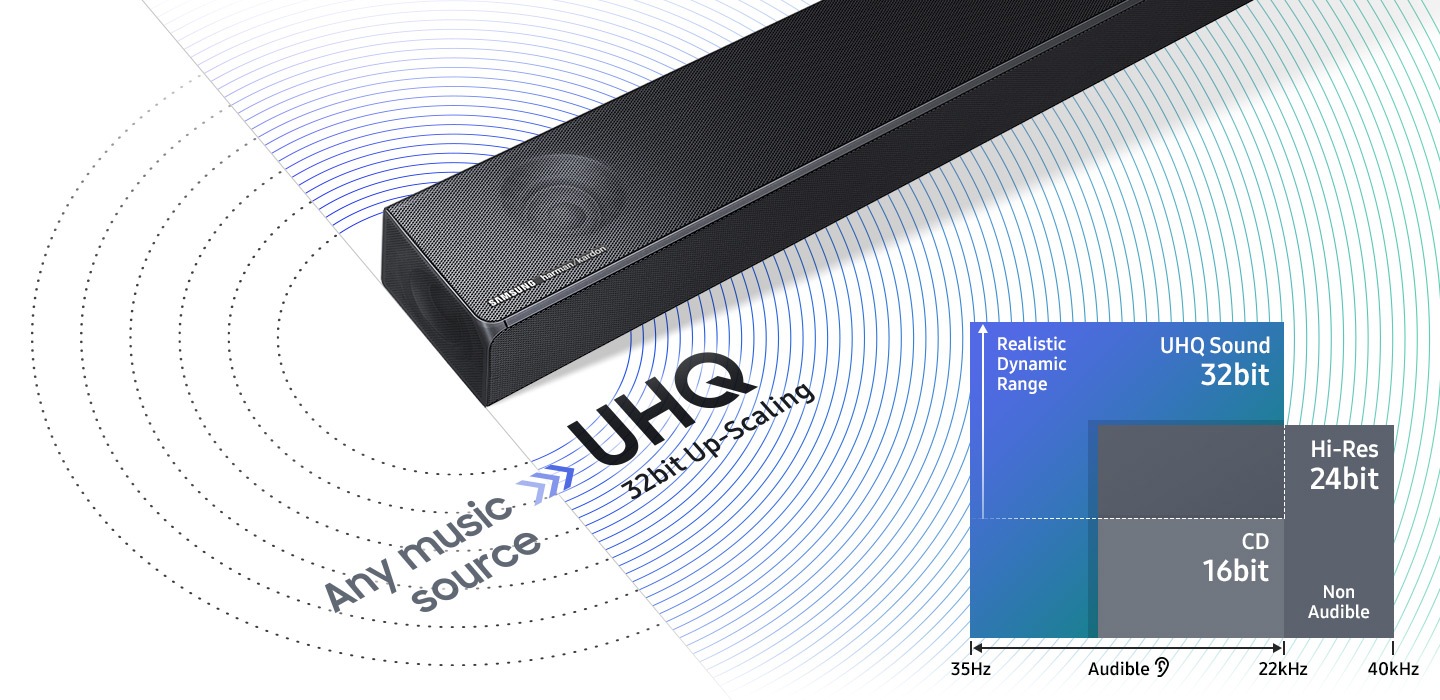 A truly seamless 4K experience
Your UHD content, UHD Blu-ray Disk Player, and Soundbar are the perfect combination for incredible entertainment. With 4K Pass-Through, your 4K content plays seamlessly with additional dynamic surround sound. Don't miss out on amazing content quality.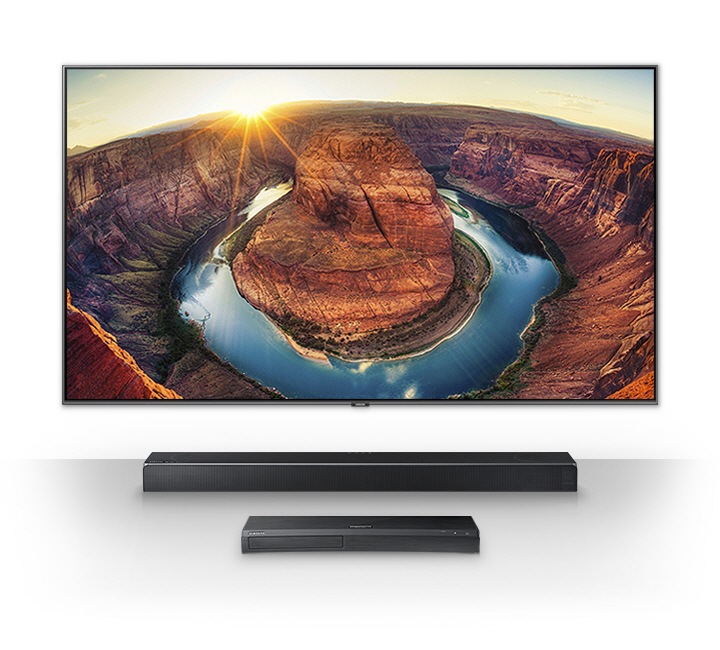 Wireless music streaming
The Soundbar uses Wi-Fi & Bluetooth for easy wireless connections to other devices. Enjoy music from your mobile in top audio quality anywhere, no strings attached.
Wireless surround sound ready
The Wireless Surround Kit* lets you expand your Soundbar to a surround sound system easily without the mess of wires**. Together with your Soundbar, you can create a channel system for a true surround sound experience.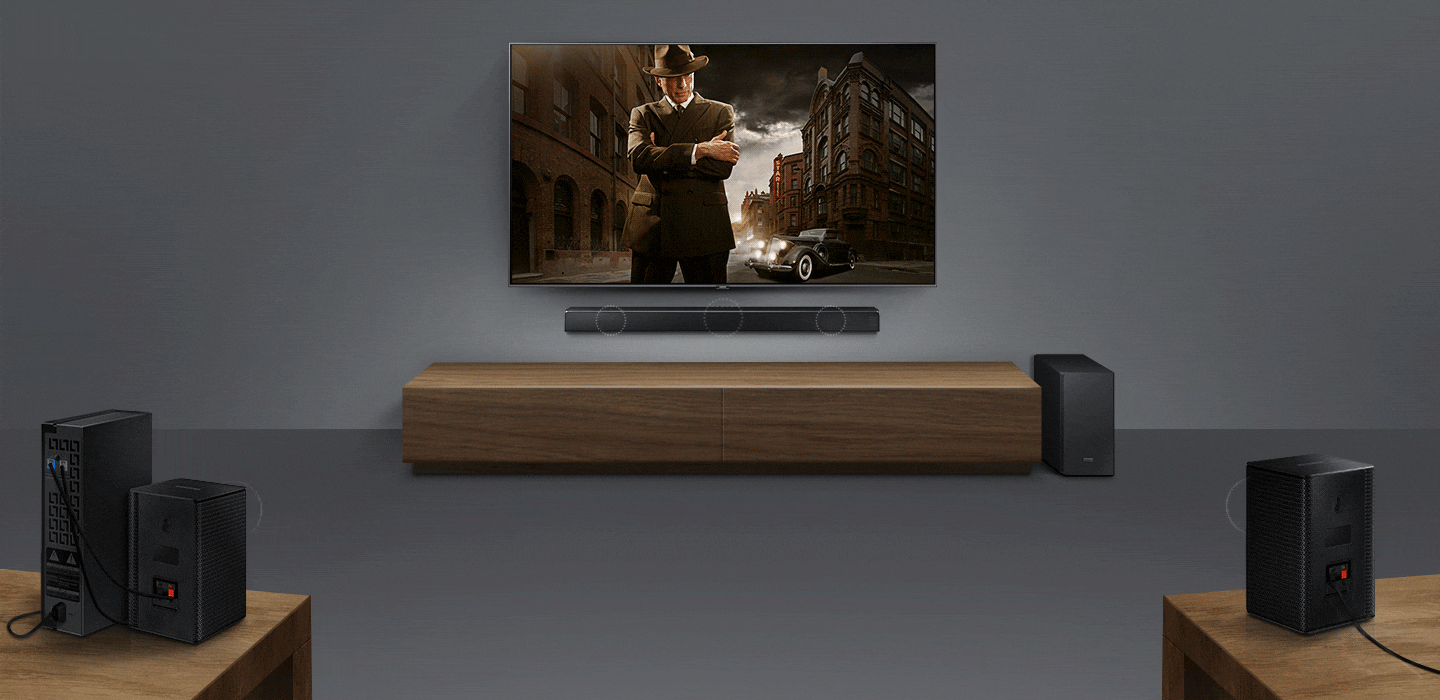 * Samsung Wireless Rear Speaker Kit is available for separate purchase (Accessory model: SWA-9000S).** The wireless module requires a power cable. Rear speakers are connected to the module by cable.
Control with one remote
You don't need several remotes. For power, volume, and even the sound effects, you can control key Soundbar functions with a Samsung TV remote through TV's UI.
* Compatible with select Samsung TVs. Please check in store for more details.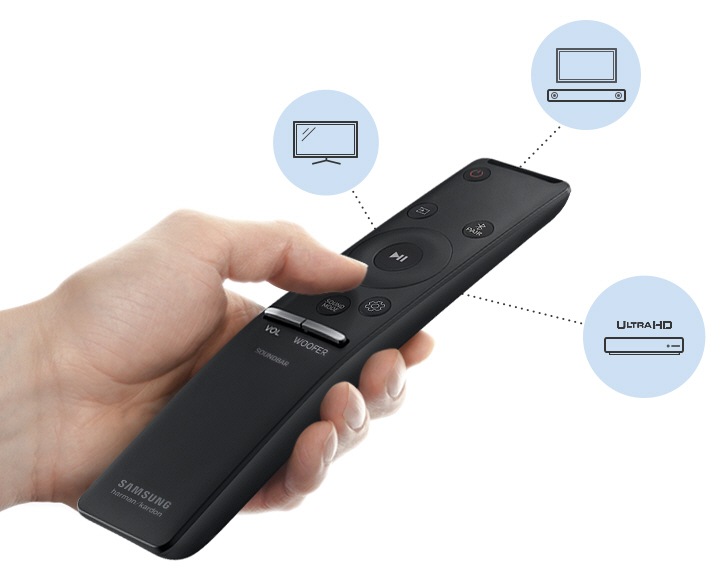 Listen smarter with SmartThings
SmartThings lets you add your speakers to your network, giving you greater control over your audio throughout your smart home. Take connected living to the next level.
* SmartThings compatible devices may vary by region. This function may differ by mobile and OS(Operation System). Download and installation of SmartThings app are required.