Phillips Avance Collection Air Fryer XL
Rapid Air technology for healthier frying
Airfryer's unique Rapid Air technology enables you to fry, bake, roast and grill, the tastiest snacks and meals with less fat than a conventional fryer, by using little or no oil! Philips Airfryer with Rapid Air technology also creates less smell than conventional fryers, it is easy to clean, safe and economical for your daily use!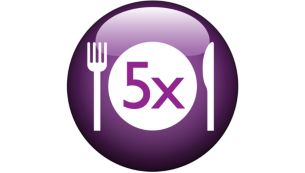 Large, 1.2kg cooking capacity for more great tasting meals
1.2kg capacity to feed up to 5 people. Now even larger familes can enjoy the Airfryer experience with an additional 50% extra capacity**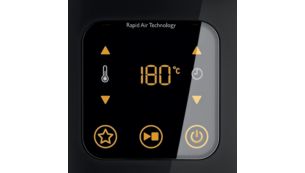 Digital screen for easy control of time and temperature
With the digital touch screen you can control the time and temperature of your cooking in an easier and more precise way. Enjoy your favorite food, prepared at the right temperature and time for the best result!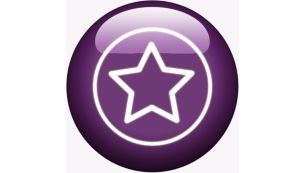 Smart preset button for your favourite dish
Save the settings of your favourite dish so that next time, your meal is ready at the touch of a button!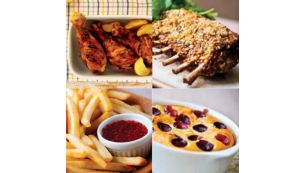 With the Airfryer you can fry, grill, roast and even bake
Not just great for frying, the innovative Philips Airfryer with Rapid Air technology also lets you grill, bake and even roast your favorite dishes for a one stop solution for all of your meals.
Recipe booklet full of inspiring recipes
This recipe book created by culinary experts gives inspiration for a variety of low-fat fried food that you can cook in the Airfryer. It also introduces you to recipes that showcase the versatility of the appliance so that you can grill, bake and even roast food healthier, faster and more conveniently.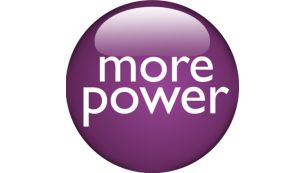 Increased in power for faster cooking results
Enhanced performance for even faster results! You can now enjoy more power* for great tasting fried food and more with less fat!*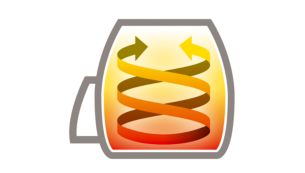 Unique design for delicious and low-fat cooking results
Philips Airfryer's unique design which combines fast circulating superheated air, starfish design and optimal heating profile allows you to fry a variety of delicious meals in a fast, easy and healthier way without necessarily adding oil.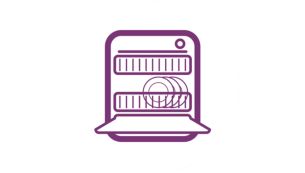 Dishwasher safe parts
The removable nonstick coated drawer and the food basket are dishwasher safe for easy cleaning.

Daily Collection Blender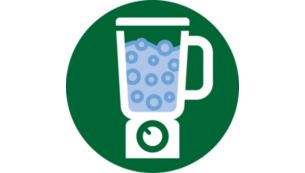 Break-resistant plastic jar
Avoid breakages with this reinforced plastic jar. The 1.2-liter jar has a working capacity of 1 liter.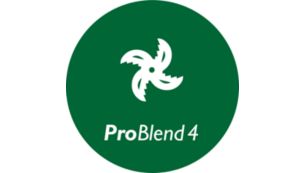 4 stars stainless steel blade
4 stars stainless steel blade for effective blending and mixing. The newly designed blade will blend and cut soft and hard ingredients and make a perfect smoothies and sauces for you and your family.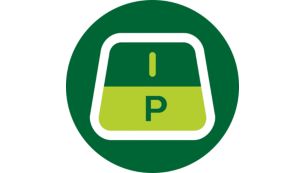 1 Speed & pulse for both soft and hard ingredients like ice
1 Speed for powerful blending and pulse for ice crushing.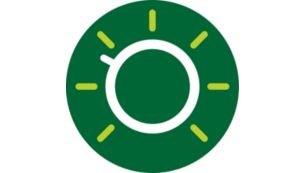 Intuitive knob for easy use
Select "blending function" or "pulse function" with just one button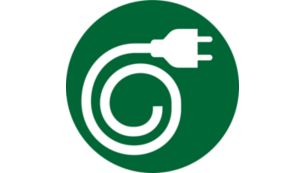 Integrated power cord storage
Save space with the handy cord storage system under the housing of the blender.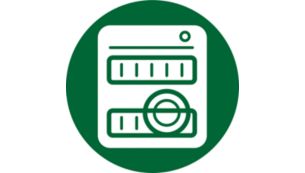 All parts are dishwasher safe
All removable parts can be cleaned in the dishwasher.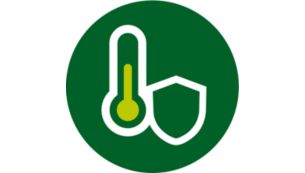 With motor overheating protection
Your Philips blender motor is designed to be protected from overheating and over-current conditions during use
2 years of world wide guarantee
Philips offers a full 2 years guarantee for this product to ensure you have long lifetime product to use every day.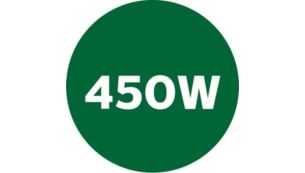 Strong 450W motor for fine results
Strong 450 W motor for fine blending. From morning smoothies, to sauces and ice crushing was never easier
Comfortable thumb grip handle
New handle with thumb grip position to hold and carry the jar easily.
Mill to grind multiple ingredients
Mill to grind multiple ingredients like spices, nuts and coffee beans.